Skip to Content
Best Ways to Recover After Breast Augmentation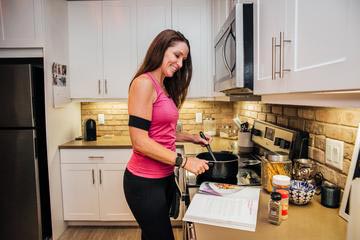 Breast surgeries are one of the most common cosmetic surgeries performed today, with mastectomies being another common surgery for women. Whether you're going in for cosmetic, reconstructive, or part of a preventative procedure with cancer treatment, the recovery process following will require patience and planning. While most women go into breast surgery with thoughts of fuller breasts or reducing breast size, your post-op recuperation is a necessary step to enjoying the positive results.
To make your breast surgery recovery go as smoothly and comfortably as possible, we have listed a few post-breast augmentation recovery tips recommended by patients and top surgeons from all over the country.
Plan Ahead
The best time to ensure a healthy recovery process is before you even undergo your surgery. Plan ahead by stocking up on supplies like soft foods and quiet activities. Fill prescriptions prior to your procedure as well, so they are ready for you when you get home. Stop all medications as recommended by your surgeon prior to your procedure to prevent any potential complications and kick the smoking habit a few weeks before surgery for the same reason. – Dr. C. Andrew Salzberg, M.D. (NY Group for Plastic Surgery LLP)
If you aren't a back sleeper, practice sleeping on your back for a while prior to your surgery. It will allow you to identify what you might need post-surgery, such as extra pillows or a bed wedge.
Help From Friends and Family
Most surgeons will require you to have someone with you for the first 24 hours after breast augmentation surgery. You will need someone to help you with doing chores, laundry, going to the bathroom, and bringing you food and medications while you rest and heal. If you have children, it's best to have meals planned ahead. If you are able, ask someone to help you with the caregiver's duties while you rest and recover.
No Heavy Lifting or Reaching
Refrain from lifting heavy objects or lifting your arms up too high until your stitches are healed. Lifting anything heavy will be out of the question for a few days, or up to a few weeks, depending on your surgery.
Stretching and bending can also be difficult to start with. Reduce the need to exert yourself in this way by moving things within easy reach, or waist-high reach.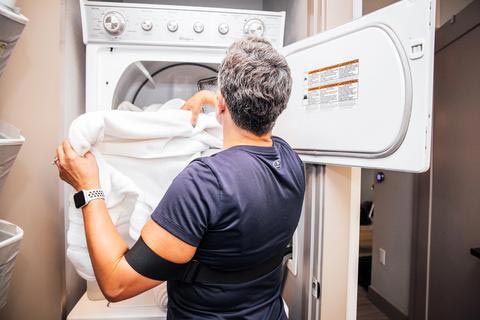 Take a moment pre-surgery and walk around your house, carrying out your usual routine but without reaching or bending. You can use the SHE REX™ post-op bands beforehand to get familiar with the movement. The bands will also be able to assist you during post-op recovery as a reminder not to lift your arms too high. Doing this exercise will help you see what tasks are difficult to perform so you can make changes before going into the hospital.
Wearing Bras Right After Breast Augmentation
It will take some time before you can wear an underwire bra again, and sometime before your breasts have settled into their final size. Some surgeons recommend wearing a sports bra, seamless bras, or a surgical bra right after breast augmentation. Other surgeons advise against wearing bras altogether immediately after surgery, and for up to six weeks afterward. Breast surgeries can be different for each individual, so you'll want to follow your doctor's advice regarding what's best for you.
Sleep On Your Back
Your doctor will probably give you sleeping instructions, however, if you're a side or stomach sleeper, sleeping in either of these positions will not be an option for a while. Sitting slightly upright for a while will also be recommended since it helps reduces swelling, enhances circulation, and keeps the breasts in the most natural position as they heal. Sitting slightly upright will also help you get out of bed easier without as much strain or pain. Getting yourself as comfortable as possible during this time is essential. Planning ahead for restful nights with back pillows or knee pillows will be important for healing.
Follow Your Doctor's Instructions
In addition to pre-operative instructions, you will also receive post-operative instructions that will likely involve three important instructions: Medications, Massage, and Rest.
Most women take prescription medications in the early days following breast augmentation, such as antibiotics, pain relievers, and/or muscle relaxers. Your pain level will depend on many different factors, including your personal pain threshold as well as the location of your incisions, and the placement of your implants. Stay on top of your meds to prevent a time-lapse between administering dosages. This will keep you as comfortable and pain-free as possible! Set a timer on your phone to help you remember what to take, and when.
Massaging the breasts after surgery will help to settle the implants into the proper position and soften the surgical area to prevent scarring. If you've had a breast lift with augmentation, massage is generally not recommended.
Keep an eye on your incisions to make sure they are healing properly. Inspect them a few times each day to make sure they aren't too red, swollen, draining unusually, or that the stitches are all intact. Make sure to wash your hands before touching your incisions.
Eat Small Portions, but More Often
Eat smaller and perhaps more frequently. Large meals require more energy to digest. If you can, eat smaller portions or have light meals to allow your body energy to recover. You'll want to avoid eating a larger meal right before bed as this can lead to indigestion and more discomfort.
Make sure you have a healthy variety of foods on hand, to give your body energy and strength to heal over the following week. It is easy to become dehydrated during this time period, so drink water, water, and more water. – Paul Vitenas, Jr., MD
Take Time to Relax
There are no shortcuts to recovering after breast augmentation surgery. Patients that give themselves ample time to heal tend to fare much better than those that try to rush back to activities too soon. Most patients are back to regular activities within 1-2 weeks. However, if you have a job that involves heavy lifting or strenuous activity, you may need to take even more time off to ensure your body heals fully. – Jordan Jacobs, M.D.
Activity is going to be important, too. Take some time to walk around regularly throughout the day; this helps with circulation and reduces the risk of developing blood clots.
Recovering from your breast augmentation surgery shouldn't be too complicated, but it will take some time, patience, and cooperation to follow the instructions provided by your surgeon. Keep in mind, your body needs time to heal, and rushing the process is just not an option. Be smart, be kind to yourself, and recover strong.