Skip to Content
10 Ways to Support Someone Going Through Breast Cancer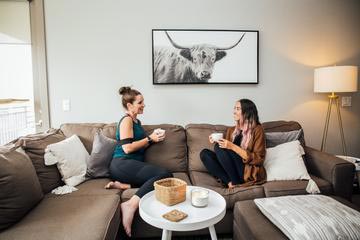 How do you support someone going through breast cancer? After learning that a friend or a family member has breast cancer, you may be at a loss for what to say, or what to do to support her. The first thing to understand is she needs you and her family's support now more than ever. Even if it's for daily tasks, moments of normalcy, a great laugh, or just be a good listener.
The worst thing you can do is ignore her or treat her diagnosis like an elephant in the room. She'll need you to be strong for her on days when she's not feeling strong. These 10 tips will help you understand her needs a little better so you may offer the best support during a difficult time.
Be a great listener. One of the most important things you can do for a friend or family member going through one of the most difficult times of their life is to listen. Be her rock during this time and give her a listening ear. Ask her if she wants to talk about it. Make sure she knows you're OK to listen to whatever she needs to talk about, for however long she needs to talk.
Be a "Girl Friday." Having a right-hand-wo/man by your side when you're going through chemo treatments can make all the difference in the world. Let her know that you have her back. Be with her during doctor visits, through difficult moments, or offer to pick up laundry or mail packages. Most importantly, keep her in mind throughout it all. Think about her personality and comfort level, likes, dislikes, and needs. Don't be afraid to ask her, "What do you need?" or, "How can I best support you right now?" Oftentimes, people can be afraid to ask for help.
Connect her with other breast cancer survivors. Creating a support team during this time is beneficial and encouraging. Ask her if she feels more comfortable with email communications or phone calls.
Keep the mood light and don't be afraid to celebrate little victories, milestones, or even moments that can feel overwhelming—like shaving your head. Having friends involved in a "Kick Cancer's Ass" or hair cutting party helps bring in her support group in a fun, lighthearted way.
Send her little gifts, flowers, a spa getaway gift card, or anything that helps her take her mind off the chaos. Pampering is a great way to feel good and rejuvenated. Women don't always anticipate the challenges that come during and after treatments and surgery. Send gifts that may help with her mastectomy or breast surgery recovery, also.
Bring meals or groceries – but ask first. During stressful times such as this, she may find even the food delivery stressful. Ask to leave it on the doorstep, that way your friend doesn't feel obligated. She can choose if she feels like eating that day – or if she feels well enough to see you. Food can be a tricky time for her right now. The last thing a person in chemo wants is food, especially food they've never eaten before. Groceries may be a better option if you want to help. But call or text her and ask what she'd like you to pick up for her.
Help keep life "normal" for her and the kids. Sometimes a mom simply needs help taking her kids to sporting events, the mall, or dance class. Offer to help with errands for the kids. Support her caregivers, too. Oftentimes, her caregivers are stressed out and tired, too. Offer your help where you can to lighten the load
Help keep her spirits high with ongoing encouragement throughout the whole process. Let her know that she's not alone, and she's going to get through this.
Send her cards. Let her know you're thinking of her with cute, pretty, or downright hilarious cards. Send them and send them often.
Join her or walk on her behalf in breast cancer walks. Participating alongside your friend is one of the best ways to show your support for her recovery, and the many who are on that recovery journey, too.
SHE REX™ is a brand for women recovering from breast augmentations, mastectomies, and reconstructive surgeries. The simple but ingeniously designed SHE REX™ Recovery Band is the result of business owner and breast cancer survivor, Kelli Beckish. Learn more here