Skip to Content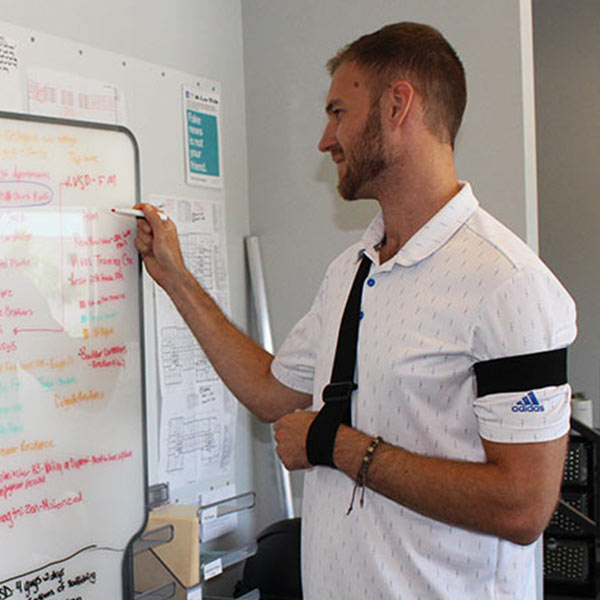 Optimized Recovery From Chest and Shoulder Surgeries
Welcome! You've just had orthopedic surgery and you're looking forward to getting back to life's activities. The recovery and rehabilitation journey is different for everyone and is sure to include a range of emotional and physical changes. One thing most post-surgery patients can agree on is a desire for a quicker recovery with fewer setbacks to healing. It's time to commit to a smooth recovery. SHE REX offers chest and surgery patients post-op wearable bands that comfortably remind you to keep your arms from overreaching – avoiding painful movements that hinder recovery.
Avoid Unnecessary Pain and Discomfort
During rehabilitation, tasks that require stretching or lifting your arms above your head, such as shampooing your hair and driving, are out of the question until you have recovered. Avoiding painful arm movements can be a big challenge, especially since our bodies are used to reaching for objects instinctively. Using a post-surgery arm movement band such as the SHE REX recovery band will assist you in keeping your arms within a safe range of motion. The band was designed for postoperative breast surgeries, chest surgeries, and shoulder procedures such as rotator cuff surgery.
Integrate More Ease into Your Rehabilitation Plan
The goals of a postoperative rehabilitation plan are to help proper healing, return to a pre-surgery level of physical activity, and improve overall well-being. The process can be arduous and stressful, but it doesn't need to be complicated. Integrating a SHE REX recovery band into your recuperation can provide an extra layer of comfort and protection you wouldn't otherwise get anywhere else.
For Those Going Through It, From Someone Surviving It
Kelli Beckish struggled to limit the movement of her arms while undergoing treatment and recovering from a double mastectomy. Her plastic surgeon and oncologist cautioned her to let herself heal. But as a highly active business owner, mom, athlete, and adventurer, Kelli needed a way to stay active while adhering to a reduction in arm movement. Kelli has created and manufactured textiles her entire life, so she turned to what she knew best – she crafted an extraordinarily simple yet truly ingenious new product for those recovering from surgical procedures to keep their movements limited to a safe range. Kelli dubbed the product SHE REX due to the way the limited movements make the user look a bit like the mighty dinosaur with short arms.